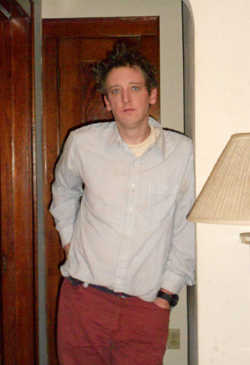 BIOGRAPHY:
Self-trained artist, author and musician, Brion Poloncic has shown works in Omaha, Lincoln and Kansas City and can be found in collections around the midwest. Also a prolific songwriter, he has released seven albums under the moniker "A Tomato A Day (helps keep the tornado away)". His latest album, "The Moon is Green" is available on Public Eyesore Records. Brion's books are published the The Journal of Experimental Fiction. He lives in Omaha with his dog, Tinca.
ARTIST STATEMENT:
I used to philosophize about the possible realisms concerning communication of the soul, the subconscious mind, and the communal consciousness contained within my subjective experience. But, nowadays I like to keep things simple and cliché on different levels. Whereas I once thought my art transposed thought and invisible "stuff" into black line drawings, I have arrived at something simpler, where the connections , similarities, differences, contradictions, and undetected realms of nature all work together to achieve a state of perpetual harmony and resolve. I consider my art the kin of improvisational jazz and free-style rap where things 'just happen'. But, I always arrive at the same conclusion, that life should be approached and lived with gratitude and enthusiasm. .
Brion Poloncic is represented by Gallery 72.